♦ Analytical Chemistry Laboratory (YAMAGUCHI Group) ♦
Laboratory of Analytical chemistry has designated that it contributes to pharmaceutical technology with analyzing molecular structures, physical properties, chemical reactivity, and functions. The connection between dynamic behavior of biomolecules and its reactivity-function relationship as well as the detection of unstable reaction intermediate in solution are our major subjects.
We have been engaged in the study to produce new analysis method, which reveals the generating mechanism of the outstanding functionalities and the physical properties of the materials in solution based on microanalysis in the atomic resolution. We also develop the analytical and chemical technique in solution that is based on quantum mechanics and statistical mechanics. These results might be applied to pharmaceutical organic synthesis.
1. Development in the field of mass spectrometry
In the laboratory, we have succeeded in the development of the 'Cold-Spray Ionization (CSI)' method. CSI is designed for mass spectrometric detection of labile organic species. It may be an appropriate method to analyze in solution the structures of biomolecular complexes, labile organic species including Grignard reagents, asymmetric catalysts, and supramolecules. The method, a variant of Electrospray ionization (ESI)-MS, operates at low temperature, allowing simple and precise characterization of labile non-covalent complexes that are difficult or impossible to observe by conventional MS techniques, including fast atom bombardment (FAB), and matrix assisted laser desorption ionization (MALDI), as well as ESI.
Cold-Spray Ionization Source
2. Biopolymer analysis
The behavior of important in vivo molecule such as protein, nucleic acid, and lipid, will be made clear by using our newly developed method CSI mass spectrometry.The structures of multistranded DNA of duplex, triplex and quadruplex DNA have been examined by electrospray ionization (ESI) MS. However, non-covalent complexes of multiply stranded DNA are difficult to observe by conventional methods, because of their low melting temperature (Tm). The characterization of triple- and quadruple-stranded oligodeoxynucleotides was carried out by means of CSI-MS.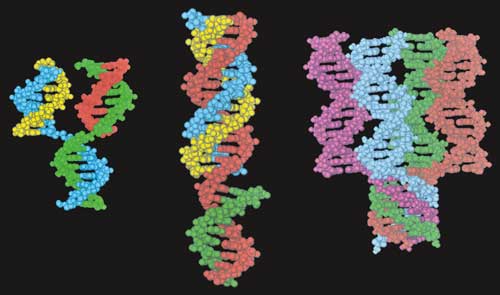 Hyper-stranted DNAs
3. Analysis of organic reaction mechanism
A new CSI mass spectrometric procedure RTS (reaction tracking system), which can trace the time-dependent simultaneous change of the raw materials, products and intermediates in an organic reaction under CSI condition has been developed. It would be expected that behavior of each component becomes clear and that the appropriate design become possible to make the reaction more efficiently.
CSI/Reaction Tracking System
---
Pharmaceutical Sciences at Kagawa Campus
Tokushima Bunri University
1314-1 Shido, Sanuki, Kagawa 769-2193, JAPAN
phone: +81-87-899-7436
fax: +81-87-894-0181
e-mail: kyamaguchi [at] kph.bunri-u.ac.jp

---