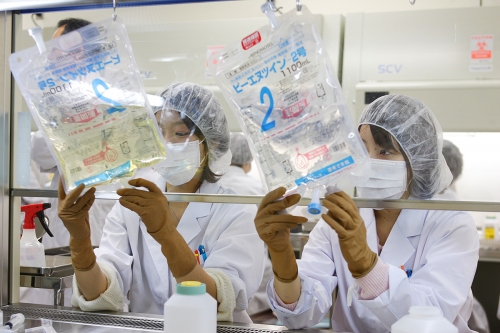 医療薬学
〒769-2101
香川県さぬき市志度1314-1
徳島文理大学 香川薬学部
 TEL:087-899-7100(代表)
 FAX:087-894-0181
研究内容
Ohara E, Bando Y, Yoshida T, Ohara M, Kirino Y, Iihara N.(2021) Fracture risk increased by concurrent use of central nervous system agents in older people: Nationwide case-crossover study. Res Social Adm Pharm. 17(6):1181-1197
Tsuboi K, Tai T, Yamashita R, Ali H, Watanabe T, Uyama T, Okamoto Y, Kitakaze K, Takenouchi Y, Go S, Rahman IAS, Houchi H, Tanaka T, Okamoto Y, Tokumura A, Matsuda J, Ueda N.(2021)Involvement of acid ceramidase in the degradation of bioactive N-acylethanolamines.Biochim Biophys Acta Mol Cell Biol Lipids. Sep;1866(9):158972
Yamashita S, Tanaka H, Tatsumichi T, Yamaguchi K, Tai T, Suzuki K, Motoki T, Houchi H, Kosaka S.(2021) Relationship between Epidermal Growth Factor Receptor Mutations and Adverse Events in Non-Small Cell Lung Cancer Patients treated with Afatinib.J Med Invest. 68(1.2):125-128. doi: 10.2152/jmi.68.125.
Uragami Y, Takikawa K, Kareki H, Kimura K, Yamamoto K, Iihara N.(2021) Effect of number of medications and use of potentially inappropriate medications on frailty among early-stage older outpatients. J Pharm Health Care Sci. 7(1):15. doi: 10.1186/s40780-021-00195-x.
Tatsumichi T, Tanaka H, Okazaki T, Takahashi K, Suzuki K, Kawakita K, Houchi H, Kuroda Y, Kosaka S.(2021) Uterine sarcoma with posterior reversible encephalopathy syndrome associated with pazopanib. J Clin Pharm Ther 46(1) : 223-226.